Product & SolutionNetmonk Prime
Netmonk Prime
Network monitoring application that acquires data from various network devices automatically and visualizes it in the form of an easy-to-understand analytical dashboard.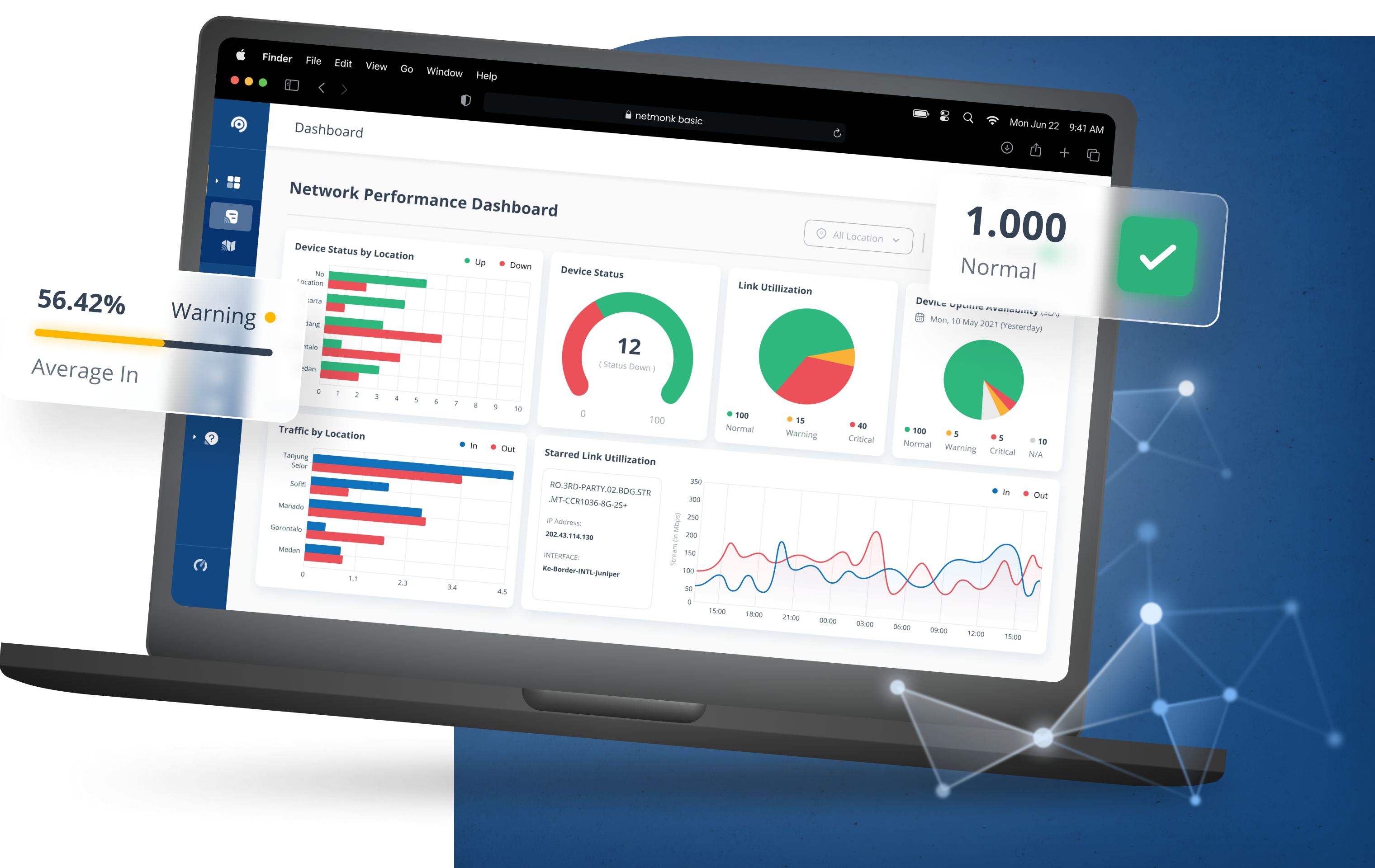 Key Features
Features of Netmonk Prime, a web-based network monitoring that provides easy network monitoring for your company/organization.
01

Operational Dashboard

Dashboard for network IT operational teams, displaying important information related to network devices and network parts (links) in order to monitor the network performance effectively.

02

Managerial Dashboard

Dashboard for IT Manager or dashboard in a Network Operation Center (NOC) room that displays the current conditions of the network in a format that has been briefly summarized.

03

Proactive Notification

Get proactive notifications via Telegram or email when the network devices in your company are experiencing problems, without being glued to the monitor screen.

04

Reporting Automation

It's easy to get the network performance report for a certain period with two types of download format, are PDF and CSV.

05

Historical Data Utilization

The data traffic and resource usage (CPU, Memory, Storage) from every device will be collected periodically and analyzed automatically to get the trend predictions and thresholds usage.

06

Safer Monitoring Protocol Support

Support SNMPv3 for authenticated and encrypted monitoring protocols, therefore it can meet the needs of companies/organizations that uphold security aspects.
Why Netmonk Prime?
Here are some of the benefits your company or organization can get from Netmonk Prime, a web-based network monitoring.
Easy Monitoring

Monitoring the latest network conditions effectively through an easy-to-understand dashboard.

Real-time Notification

Detect network issues quickly using real-time notifications.

Decision Support

Historical data utilization can be used as a basis for future decision making.

Calculating Network Performance

Network performance can be measured through the availability ratio, calculated from the up or down status and device uptime.

Asset management with Inventory

Nodes, probes, and gateways can be managed easier with the inventory menu.